YCSO Seeks Public Help In Identifying Burglary and Credit Card Fraud Suspect | The Daily Mail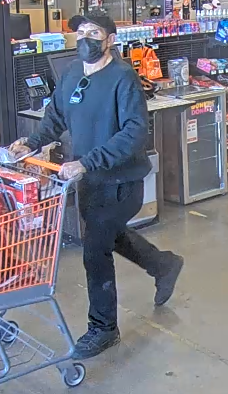 At 8:30 a.m. on Friday, September 10, the Yavapai County Sheriff's Office (YCSO) was contacted by a burglary victim who reported that his vehicle's window had been smashed and that items, including a credit, had been stolen, according to a statement. Release.
The victims walked around Thumb Butte for about an hour and a half before returning to find their vehicle had been broken into in the parking lot at the start of the trail. The credit card was then used to make purchases worth over $ 2,000, which led MPs to a Home Depot in Frontier Village in Prescott.
From the Home Depot, YCSO MPs were able to extract surveillance footage on September 25 that showed the suspect dressed in black: black pants, black long-sleeved sweatshirt, black shoes, black baseball cap, sunglasses in aqua blue frame on its collar and a black face cover.
The suspect's nationality was not easily discernible in the images. However, MPs believe he can be either a tanned white male or a Hispanic male. His height and weight are estimated to be around 5 feet 6 inches to 5 feet 10 inches and 165 to 185 pounds. The suspect may be driving a model red double cab truck over 2,000 years old, possibly a Nissan Frontier.
YCSO believes this suspect has a well-established method for his theft and may have committed similar crimes. YCSO is asking the public for help in identifying the suspect.
If you believe you have been a victim of this suspect, or have any information that may assist MPs, please call the non-urgent YCSO at 928-771-3260.
YCSO said in the press release that it urges everyone to watch the suspect and keep their valuables with them or if left in their vehicle, in a low-key location.
For more information about the Yavapai County Sheriff's Office, please visit ycsoaz.gov.
Information provided by Yavapai County Sheriff's Office.