Warm hearts: Rose Park event offers free COVID-19 tests, vaccinations, coats and shoes for children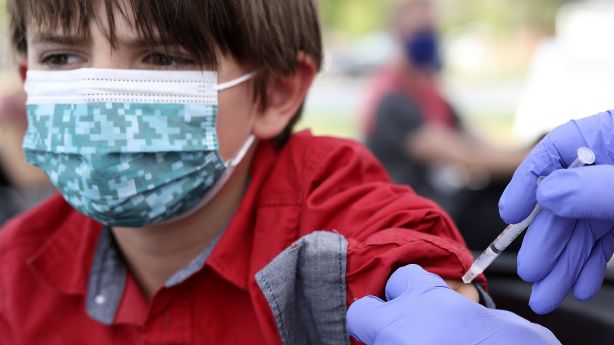 [ad_1]
Asher Williams, 12, of Salt Lake City, gets the COVID-19 vaccine at Rose Park Elementary in Salt Lake City on Wednesday. (Laura Seitz, Deseret News)
SALT LAKE CITY – The children's vibrant coats could be seen leaving Rose Park Elementary School, with some coats being washed away on bikes or tucked away in the back seats of parents' cars, as the sun shone at 79 degrees on Wednesday.
A pair of children pulled a red cart with several grocery bags of food, a new pair of shoes and two bright orange and blue coats tucked away on it as they walked home. The scene was part of a community partnership between the Salt Lake Education Foundation of the Salt Lake City School District, the Salt Lake County Department of Health, the Salt Lake County and Salt Lake City Mayors' Offices and the non-profit organization Operation Warm.
"Our Rose Park is one of the hardest hit areas in our community. We were concerned about making sure families have access to the vaccine in this neighborhood. Many of them do not speak English, there are multiple languages, different cultures, And so because COVID has hit this community pretty hard, we want to make sure we give that opportunity, "said James Yapias, director of the Salt Lake Education Foundation and the Development Office.
A study by researchers at the University of Utah found that low-income neighborhoods in Salt Lake County – such as Rose Park and Glendale – have been hit the hardest by the coronavirus pandemic, experiencing nearly 10 times the incidence rates of COVID-19 in wealthy areas. One of the researchers, Daniel Mendoza, said the disparities were linked to cultural and racial origins as well as access to health care.
"That is, lower-income, higher-risk professional careers also tend to be in areas that have larger homes in terms of population – these are multigenerational families," Mendoza said.
Mendoza also highlighted the insufficient testing sites and language barriers for these communities at the start of the pandemic, adding that it was later noticed and corrected by health services.
The event was representative of this. Free COVID-19 tests, as well as vaccination sites for eligible children and adults have been set up, with cars passing slowly. Signs were posted in the parking lot in English and Spanish, as well as people within the different partnerships who could communicate in different languages. Rose Park Elementary School is also home to the Rose Park Clinic, which helps the neighborhood access regular health care outside of COVID-19.
"The best way to protect families right now is to get vaccinated and for children who cannot be vaccinated, older siblings should, and also just wear masks. This is an important initiative to ensure that communities in the west have access to the vaccine, but are also safe throughout the winter, "said Hailey Leek, coordinator of community outreach and advocacy special projects. equity for the Salt Lake City mayor's office.
This is where Operation Warm comes in.
"We are at 84116, this is the Rose Park neighborhood. It also coincides with the greater number of unvaccinated people in the city and so we wanted to organize an event where people would have the choice to be vaccinated for 12 years and more. Said Michael Andrews, Intermountain West Partnerships Manager for Operation Warm. "But we also know that many individual families in this country live in poverty, so we wanted to provide brand new shoes and coats, as well as food."
Operation Warm is a national non-profit organization that works with community partners to provide children with brand new winter shoes and coats. Coats and shoes are made by Operation Warm through donations and business partners. Operation Warm works with community partners focused on supporting children and families in need or in Title 1 schools where 40% or more of their students' families are at 150% or less.
The number of people in need has increased since the COVID-19 pandemic, Andrews said.
"Now more than ever, these coats and shoes are very important to these communities because families faced with having to pay an electricity bill, a gas bill, food or transportation, one of the last things in the world. that budget was shoes and coats for the kids, "Andrews said.
He continued, "It's a community school. Most of these kids go to school on foot. So we want to make sure they're warm and when they get to school they're fed. . We know the data is clear when children are well taken care of and have warm winter clothes, they tend to do better in school. "
×
Pictures
Related stories
More stories that might interest you
[ad_2]