Step up, Louisiana, and give the boot to COVID! | Sponsored: Louisiana Department of Health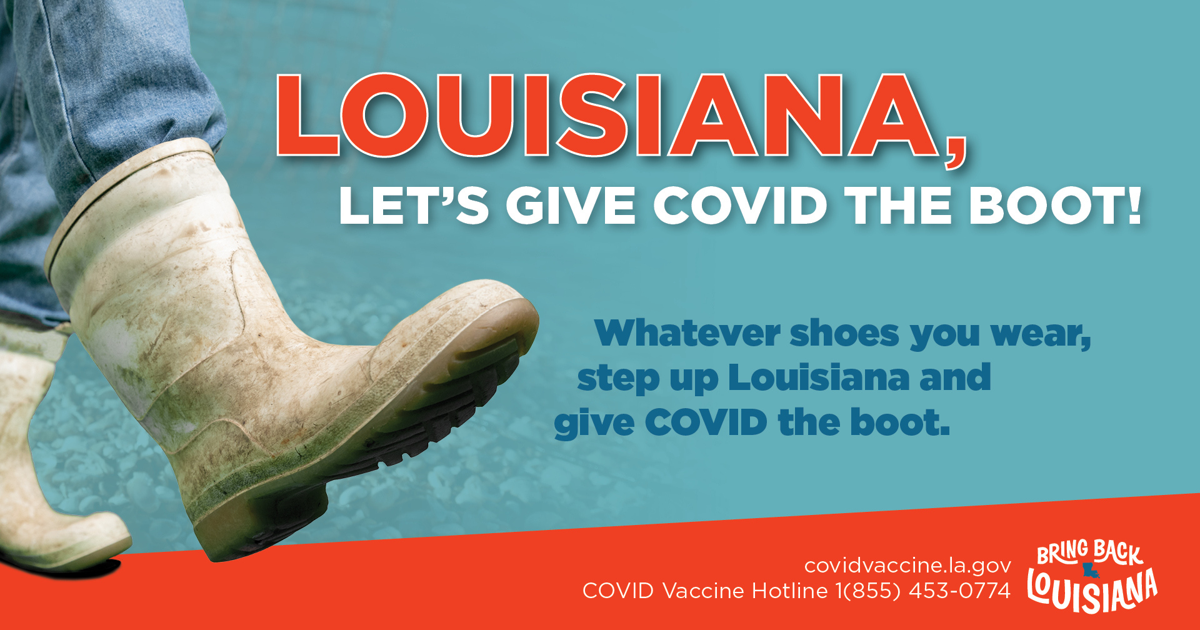 Louisianans come from all walks of life. Whether you're working in an office or on a farm, setting traps or putting out fires, dribbling a ball or strolling through the mall, it's time for us all to step up and give the boot to COVID!
Louisiana is in a stronger place today than we were this time last year, and we have more tools than ever to protect ourselves from COVID-19, including vaccinations, boosters, high quality treatments, tests and masks.
If you are vaccinated, get the booster for maximum protection. If not, get vaccinated so you don't get sick or pass the virus on to a vulnerable person like a tiny baby or an elderly person.
The facts are clear: booster shots offer at least 25 times more protection than just two doses of an mRNA COVID vaccine. Additionally, unvaccinated people are 97 times more likely to die from COVID-19 than those who received a booster, according to data compiled from 25 U.S. jurisdictions during Omicron's push.
More than 2.7 million Louisianans have received at least one dose of the COVID-19 vaccine, and 2 out of 3 eligible Americans are boosted. It's not too late to be in this number!
The LDH and CDC recommend that everyone age 5 and older get the COVID-19 vaccine, everyone age 12 and older, when eligible, get a booster shot, and anyone age 5 years and older immunocompromised receives a booster injection.
Vaccines are free and widely available at more than 1,000 locations across Louisiana, including pharmacies, hospitals, health clinics and doctor's offices. To book your free vaccine or booster shot closest to you, go to vaccines.gov.
You may have other questions. And that's good too. Talk to your health care provider or your child's pediatrician. If you would like to speak to a healthcare professional now, call the Louisiana Department of Health's COVID Hotline at 855-453-0774.
We are heading into a time where COVID is no longer a crisis, but something we protect ourselves from and deal with. So no matter what shoes you're wearing, let's kick things into high gear and give COVID the boot!