Everything you need to know about selling Times Colonist books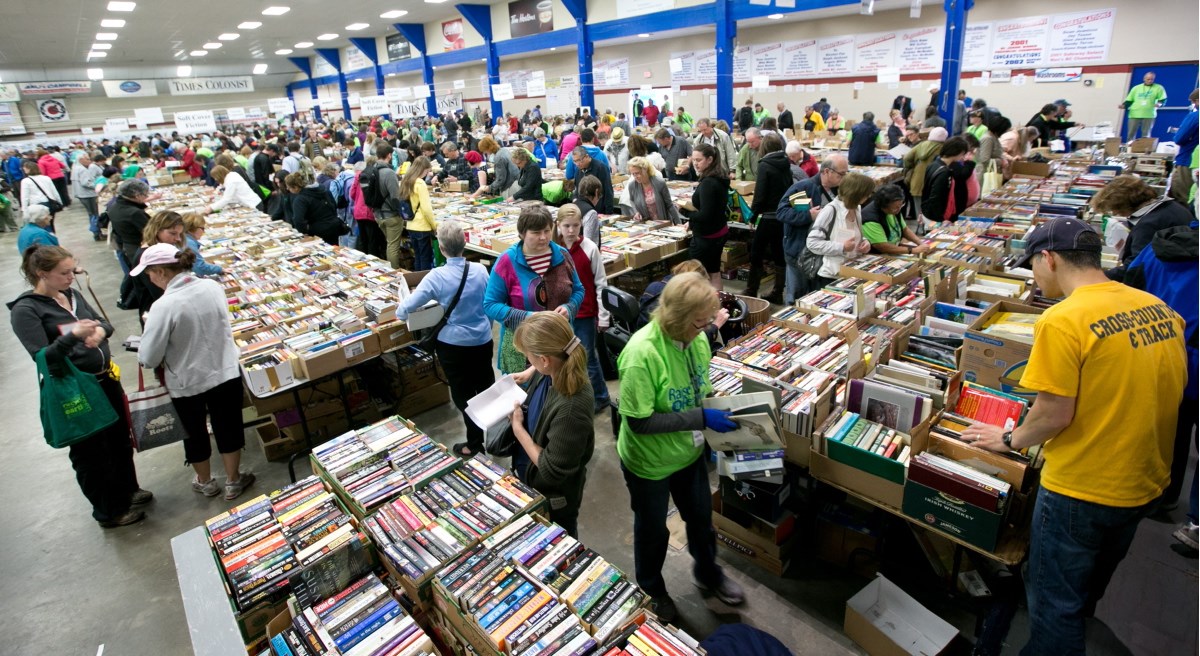 Here's what you need to know to have a better book shopping experience during the Times Colonist Book Sale on May 14-15, 2022.
He's finally back.
After a three-year absence, the Times Colonist book sale returns this weekend.
Here's what you need to know to have a better book buying experience.
• First, the inner workings: The sale will take place at the Victoria Curling Club, 1952 Quadra Street, this Saturday and Sunday, May 14 and 15, 2022, from 9 a.m. to 5 p.m. both days.
• It's cheap: $1 for children's books and paperbacks, $2 for softcovers, $3 for hardcovers. Prices haven't changed since 2002, when Jean Chrétien was prime minister, the BlackBerry hadn't hit the market yet, and Netflix was still a mail-order movie rental business.
• Please wear a mask. Please also respect physical distancing. No need to reach other buyers to get this copy of I'm fine, you're fine. You're looking for books, you're not playing Twister.
• Payment can be made by debit card, cash or credit card. Or cattle, if you're from Metchosin.
• Please wait. It's a popular event, which can mean queues reminiscent of a Soviet butcher's shop in the 1980s, or the passport office in Victoria today. For years, the line for the book sale stretched around the block by the time the doors opened Saturday morning. Sundays are historically quieter.
• If you are having trouble with the patience part, please see the self-help section of the sale. It's in a room downstairs when you first enter the front door. The addition of this room this year allowed volunteers to leave a little more space between the tables on the main level.
• There is an excellent* children's section in the upstairs seating area. No strollers, please. (*To clarify: it's the section that's great, not your kids, although we're sure they're fine too.)
• For those hungry for more than books, the curling club cafe will be open until 4:00 pm both days.
• Wear comfortable shoes, as you will be on a concrete floor. Some people like to bring their own carry bags, while others prefer to pick up a cardboard box (or two, or three…) from the curling club.
• Paid parking is available in the parking lot serving the curling club and the Save-on-Foods Memorial Centre.
There is also free parking along Quadra Street, but be aware that parking on some nearby side streets is for residents only. You can also take bus no. 6 which runs along Quadra.
• How many books are there here? At first glance, half a million, all sorted by volunteers after being donated by readers two weeks ago. You will be able to identify the volunteers by their green T-shirts and the moans they emit after fifteen days of hard work. Most have no connection to the newspaper and are only motivated by a desire to help the community. The sale could not take place without them.
• On Monday, May 16, teachers and representatives of associations can take away as many remaining books as they wish, free of charge, from 8 a.m. to 4 p.m.
• Surplus books are bought in bulk by a Vancouver company that resells them online or donates them to literacy groups and charities.
• Last Saturday was World Naked Gardening Day. This Saturday is not World Naked Shopping for Gardening Book Day. Just say. There is a gardening section, however.
• YES, THERE IS A LARGE PRINT CATEGORY.
• Money raised through book sales is matched, in part, by funds from the provincial government through Decoda Literacy Solutions. The more you spend, the more they send. All of the money (a total of $6 million since the Times Colonist's first book sale in 1998) goes to literacy on Vancouver Island. This spring, $270,000 in grants went to a record 214 recipients, mostly schools.
• For those who love literacy but hate crowds (or books), there is the option to donate to the Times Colonist Literacy Society at Canadahelps.org.