Community group returns National Lottery Community Fund grant to protest LGB Alliance funding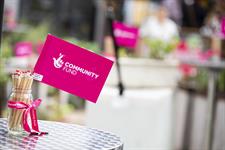 A Scottish community group has returned a grant from the National Lottery Community Fund to protest the NLCF's decision to provide funding to the LGB Alliance.
Organizers of Free Pride, an annual event in Glasgow held as an alternative to traditional Pride rallies, said in a statement they "have no choice but to reject funding".
Free Pride argued that the NLCF broke its own equality rules by awarding a grant to the LGB Alliance, and accused the charity of "scaring trans people".
Following the return of funding, this year's Free Pride event, which usually takes place every August, has been cancelled, the group said.
The LGB Alliance received £9,000 from the NLCF earlier this year to research a helpline supporting young lesbian, gay and bisexual people.
The charity has previously said its work represents "providing an additional choice" for anyone who might need advice.
An NLCF spokesman said Free Pride had informed them of their intention to return a grant worth £4,520 and said: 'The groups we fund have the right to return or refuse the funding as they see fit. It is their choice and we will always respect their decision.
It was revealed in June that some NLCF staff had raised concerns internally about the decision to provide funding to the LGB Alliance.
Free Pride said in a statement, "We have made the difficult decision to reject and return this funding due to the NLCF's choice to also provide funding to the LGB Alliance."
He added: "We think it [the LGB Alliance grant] is totally inconsistent with the NLCF principles of equality: promoting accessibility, valuing cultural diversity, promoting participation, promoting equal opportunity, promoting inclusive communities, and reducing disadvantage and exclusion.
"We believe the LGB Alliance has exhibited behavior that is divisive, discriminatory, exclusionary, dishonest and actively harmful."
The LGB Alliance did not respond to a request for comment.
The NLCF spokesperson said of its decision to fund the LGB Alliance: "We are confident that this project meets our funding eligibility criteria. All projects we fund must comply with equality legislation and the terms and conditions of each grant.
"We remain confident in our decision to award this award."